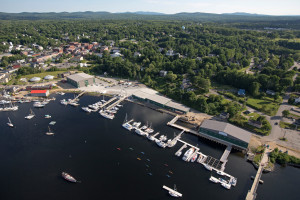 The 2013 Boatyard of the Year Award was presented to Front Street Shipyard of Belfast, Maine at the American Boat Builders & Repairers Association (ABBRA) Boatyard Business Conference Awards Dinner & 70th Anniversary Celebration held in Fort Lauderdale Beach, Florida from January 16th – 18th at the B Ocean Hotel. Given to the service or repair facility that demonstrates excellence in all facets of their company through commitment to customer service, quality management and positive vendor and employee relations, regard for safety of their employees and customers, is a steward of the environment, and innovatively employs technology to enhance their marine business, this award is one of ABBRA's most prestigious Awards of Excellence.
"You would be hard pressed to find four more distinctive or distinctly different individuals than the four men who have pooled their particular skills, knowledge and passion to create Maine's newest, most rapidly growing and impressive yachting facility – Front Street Shipyard," said ABBRA President Pam Lendzion, in her award presentation remarks. She added, "Ken Priest, Steve White, Taylor Allen and JB Turner shared a vision, saw an opportunity and turned that vision into a reality. They took a ramshackle collection of buildings, located on a tired waterfront that was begging for a new lease on life and turned it – seemingly overnight – into a modern, state of the art facility that has captured the hearts of those who work there, those who do business there and those who call the small Maine town of Belfast home. That vision, that commitment – to high quality service, to their workforce and their town, to responsible and sustainable development, to employing the latest technologies, their willingness to take risk and their ability to succeed is what makes Front Street Shipyard so deserving of one of ABBRA's highest awards – Boatyard of the Year!"
JB Turner in accepting the Boatyard of the Year Award acknowledged not only his partners, but the Front Street Shipyard employees and the entire town for sharing the vision and helping make it a reality. Front Street Shipyard joins a distinguished group of boatyards such as Jarrett Bay Boatyard in North Carolina, Newport Shipyard in Rhode Island and KKMI in California that have received the ABBRA Boatyard of the Year honor.