We're particularly proud of our refit capabilities at Front Street Shipyard. When an owner entrusts us with his or her vessel to breathe new life into, we work closely with the owner's team to develop a customized plan. Our technicians map out the boat, identifying areas to be refreshed and designing areas that will be entirely rebuilt. The result is a fully customized, like-new vessel that meets the desires of her owner and crew.
Read more about our refit capabilities.
Below are case studies of refits that stand out for their excellence in craftsmanship and performance.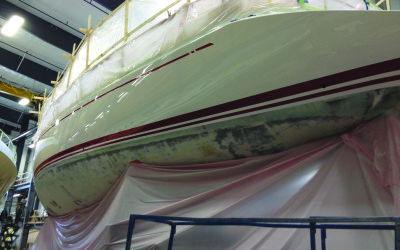 JOSEFINA is a Swan 86 who came to Front Street Shipyard in 2012 for a fast-paced but comprehensive refit. On the outside of the yacht, Front Street Shipyard's team took on a facelift for Josefina. Her topsides got fresh paint, as did her deck. We sanded and painted JOSEFINA's bottom to keep her moving through the water more quickly and efficiently.